Biography of Founder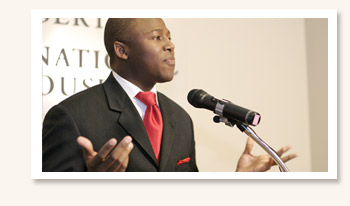 Prince Cedza Dlamini has a degree in International Relations and Political Science from Tufts University in Boston, Massachusetts, in the USA. He is an international public speaker (as a UN Millennium Development Goals spokesperson and activist), a humanitarian and a social entrepreneur.
He was born into the Royal Family in Swaziland and founded the Ubuntu Institute as an organization that would benefit youth and provide education on how the Millennium Development Goals could be achieved in Africa.
His strategy was to focus on four key goals: eradication of poverty; gender and women empowerment; education; and eradication of HIV/AIDS. As the CEO of the Ubuntu Institute, he promotes a values-based approach (looking at the role of heritage, indigenous knowledge systems and culture) in achievement of the UN Millennium Development Goals and is responsible for providing strategic direction for the organization.
Prince Cedza's international achievements
Appointed spokesperson for UN Millennium Development Goals in Dakar, Senegal in 2004
Board member, South African Chamber of Commerce in America (2007-present)
International board member, Operation Hope Inc, USA (2007-present)
Chairman, Africa, for the World Youth Peace Summit, USA (2001-2006)
International board member, Taking IT Global, Canada (2007-present)
Board member, Global Development for Peace and Leadership, Cape Town (2007-present)
Public speaker, motivational speaker (on youth involvement with the MDGs) (2002-present
Academic achievements
BSc Degree in International Relations and Political Science from Tufts University, Boston, Massachusetts (2001-2005)
International Business Degree, University of Massachusetts, Boston (2000-2001)
Masters in Philanthropy (currently pursuing) with Indiana State University
Other (Certificate Programs)
Training in Emotional Intelligence (EQ) with Life Masters International (1995-1996)
Training in Neuro-Linguistic Programming (NLP) with Life Masters International (1995-1996)
Landmark Education Leadership Program (The Forum, advanced course, Self Expression and Leadership Course and The Wisdom Course) in Boston (2002-2006)
A member of Toastmasters International, South Africa
Fellow, Abshire-Inamori Leadership Academy (AILA) at the Center for Strategic and International Studies (CSIS), Washington DC, USA (2008-2009)